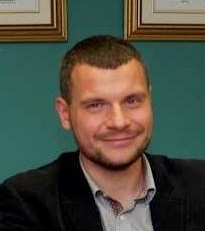 Deputy Director
Dr. Piotr Kajak, assistant professor at the POLONICUM Centre of Polish Language and Culture for Foreigners, Faculty of Polish Studies, University of Warsaw. Teaches Polish as a Foreign/Second/Heritage Language.
Obtained his degrees from cultural studies, Slavic studies, foreign language acquisition and political sciences. 2011-2014 visiting professor at the Department of Slavic Languages and Literatures, University of Toronto.
Lectured at universities: Comenius in Bratislava, Leipzig, ELTE in Budapest, in Potsdam, in Barcelona, in Vilnius, Eberhard Karl in Tubingen, in Glasgow, in Ostrava, in New Delhi, in Calcutta, in Manipal, Kyungpook National University in Daegu, Sichuan in Chengdu, SISU in Shanghai, GDUFS in Guangzhou, Charles in Prague, and Sorbonne in Paris.
Expert of the Polish National Agency for Academic Exchange. Since 2006 member of examining boards of the State Commission for the Certification of Proficiency in Polish as a Foreign Language, Ministry of Science and Higher Education."
Centre of Polish Language and Culture for Foreigners
p.kajak@uw.edu.pl